Best Men's Underwear 2021 – Top Brands Reviewed
by Cloth Karma | Updated May 14, 2021.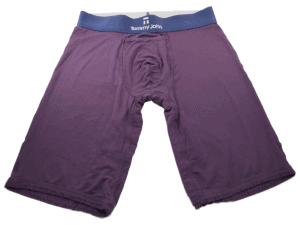 Tommy John Second Skin Boxer Brief
A top tier designer underwear, with next-level softness provided by their micromodal fabric blend. It's aptly named and might leave you wondering why you've ever worn anything else.
Best Eco-Friendly Underwear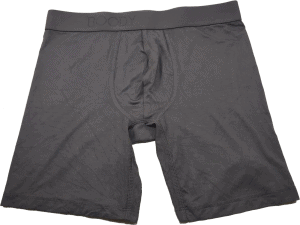 Boody Mens Long Boxer Brief
This eco-friendly boxer brief made of naturally soft bamboo has a two-layer supportive pouch and flexible waistband to keep you comfortable.  Great for days at the office or lounging at home.  Also great for the environment.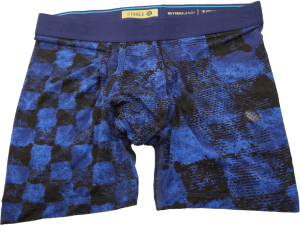 Stance Wholester Boxer Brief
Trendy designs and an ultra soft fabric blend put this boxer brief among our top picks. It also features a semi-enclosed pouch that will keep your boys in position throughout the day.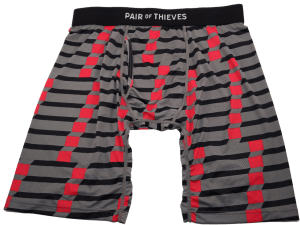 Pair of Thieves Cool Breeze Long Boxer Brief
Indulge in a silky smooth breathable mesh that's cool to the touch. It can take you from sweaty and smelly to chilly and fresh on even your most intense days.
Best Breathable Underwear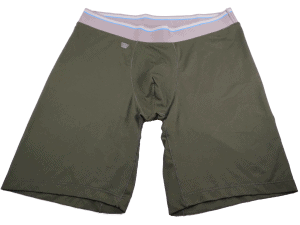 Mack Weldon AIRKNITx HD 8″ Boxer Brief
Wick away sweat and dry up moisture with jersey boxer brief inspired breathable mesh. Amazing package support and supple fabric keep you comfy whether active or lounging around.
Best Working-Man's Underwear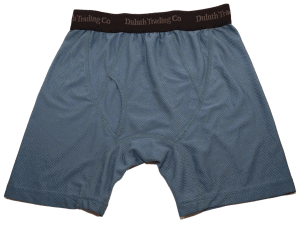 Duluth Trading Performance Boxer Brief
Fight odors and moisture with these performance boxer briefs that specialize in durability and wicking. No-frills designs and stretchy fabric aim to make your underwear dry and comfortable.
We've broken up our underwear reviews into various categories. Narrowing down the best men's underwear depends on the specific features that the wearer will utilize in his day-to-day. To learn more about how we made our picks check out our underwear review guide and rubric below.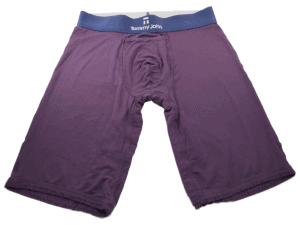 Tommy John – Second Skin Long Boxer Brief
Modal is one of the softest fabrics available, and Tommy John underwear took it to the next level by using an even smaller micromodal fabric that is easily the softest to the touch fabric we've reviewed. These boxer briefs are almost dangerously soft, once you feel it you just might want to replace your whole wardrobe with them.
This premium fit is achieved by their micromodal and spandex blend, which allows the fabric to snuggle up to your body for a close fit. It's close around your package as well, with a contoured pouch that provides a satisfying level of support for your boys. And it is one of the best examples of the newer horizontal fly underwear design.
Tommy John created this fabric with casual wear in mind. So these are perfect for regular day-to-day normal use, but you wouldn't want to enter any marathons with them! Instead you'll love them for lounging around the house in luxurious comfort.
Learn more about Second Skin Long Boxer Briefs in our full Tommy John underwear review.
Best Eco-Friendly Underwear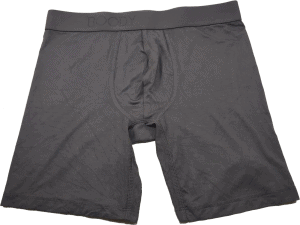 Boody – Men's Long Boxer Brief
Most people don't put a lot of consideration into the fabrics they're wearing and how those fabrics are made. What chemicals are used? Are those chemicals recycled? How sustainable is the whole manufacturing process?
These are questions that you can answer confidently and with pride when you wear the Boody EcoWear line of bamboo underwear. They are committed to making a positive impact on the world with their sustainable boxers and briefs. And you can see this in the transparency they have about their whole production process. Furthermore they have environmental and ethical certifications from recognized organizations to back up that commitment.
And the bamboo boxer briefs are actually really comfortable, too! Organic bamboo clothing is super soft, often rated on par with modal fabric which makes up most luxury soft underwear.
Learn more about ethically and sustainably produced underwear made out of bamboo in our full Boody Underwear Review.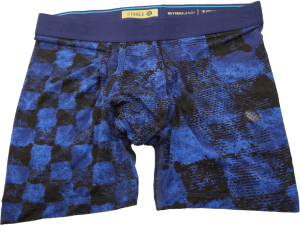 Stance – Wholester Boxer Brief
Trying to find the best men's underwear for ball support? Think you might like to try some men's underwear with a ball pocket? If so, then you might be interested in these Stance boxers which are a soft lined underwear with ball pouch.
The goal of ball supporting boxer briefs is keeping everything in place throughout the day. And the Wholester is one of the best pouch underwear on the market. Which is saying a lot because there are more and more testicular support underwear brands on the market these days.
And of course the testicle pouch isn't all the Stance Wholester has to offer. It's made of an incredibly soft ButterBlend fabric that has modal, lyocell, and spandex fibers. It's an excellent choice for casual wear and lounging at home.
Read more about these pouch underwear for men in our full Stance Wholester pouch underwear review.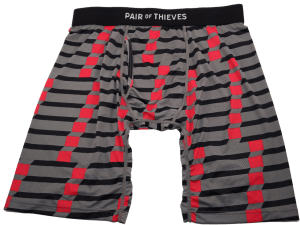 Pair of Thieves – Cool Breeze Long Boxer Brief
How's the microclimate in your pants? Do you get sweaty, damp, and smelly, leaving you wondering how to get rid of swamp balls? The Pair of Thieves underwear line now offers the Cool Breeze fabric to solve this specific problem. A good underwear microclimate is all about moisture control, of which you must consider liquid moisture and vapor moisture.
These Pair of Thieves boxer briefs are cool to the touch and great at wicking liquid moisture off your body. And they're made in a jersey boxer brief style that has great airflow. All of which means you get to stay dryer and fresher on those hot summer days.
Learn more about Cool Breeze boxer briefs full Pair of Thieves underwear review
Best Breathable Underwear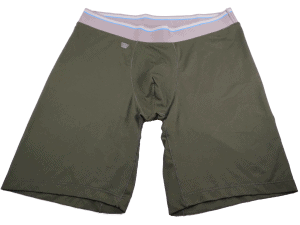 Mack Weldon – AIRKNITx HD 8″ Long Boxer Brief
If you're looking for supportive, breathable, moisture-wicking underwear I'd recommend trying Mack Weldon's AIRKNITx. Their material and design provide an amazing level of package support. And the fabric has a jersey-like quality with a ton of tiny mesh holes that keep everything well ventilated.
Sometimes called the apple of underwear, Mack Weldon boxer briefs have next-gen style and fabric design. There are several fabric options available: AIRKNITx, 18 hour jersey, and the silver fabric. Out of these varieties, the AIRKNITx is primarily focused on moisture control and active support.
Those who are looking for high end performance fabric with a leading brand in the premium underwear scene should strongly consider the Macke Weldon underwear line.
Read more about one of the best cool men's underwear in our full Mack Weldon AIRKNITx HD Boxer Brief Review.
Best Working Man's Underwear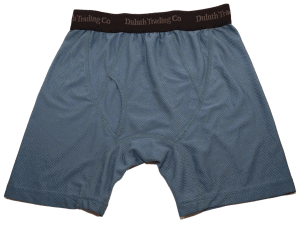 Duluth Trading – Performance Boxer Briefs
Those who have spent a full day working from sunrise to sunset in the brutal summer heat know exactly how important moisture wicking and odor control are. Nobody enjoys the dreaded swamp crotch smells, and nobody wants to feel like their peeling off their underwear when the get home in the evening.
And so Duluth Trading has stepped up to the plate with their performance boxer briefs. They offer moisture controlling and odor-resistant fabric that can make a whole world of a difference in your day-to-day life.
If you're looking for one of the best construction clothing brands on the market, then look no further. Duluth underwear has the working man in mind whenever it creates products, and this boxer brief is a solid contender for best men's cooling underwear.
Read more about the Duluth Trading Company and its offerings in our full Buck Naked Performance Boxer Brief Review.
Top Underwear Picks
We've reviewed nearly every major men's underwear brand and listed the best here!