Boody Underwear Review – Men's Long Boxer Briefs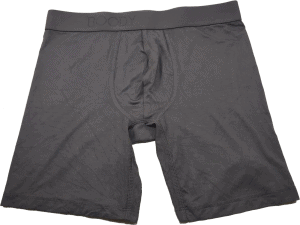 Overall Review
Boody's Long Boxer Brief is a great choice if you're looking for an eco-friendly boxer with premium level softness. This newer version improves on their "original" boxer brief with additional support and a redesigned waistband. With a smooth blend of bamboo viscose and spandex, these boxer briefs provide excellent comfort that stretches with you and wicks away moisture throughout the day.
Moisture & Odor Control
73
POSITIVES
Eco-friendly and sustainable
Good for sensitive skin
Super soft bamboo fabric
Offset side seam
NEGATIVES
Limited design options
Easily wrinkled
Brand Overview:
Boody has been leading the natural bamboo underwear scene since 2012. Founded in Australia by two friends who share a passion for comfortable underwear and sustainable practices, the company has gradually been spreading across the globe. And their commitment to the environment is evident in their garment construction process.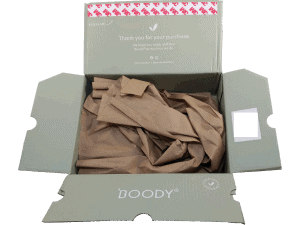 Are they actually eco-friendly?
Boody Eco Wear appears to have a genuine commitment to eco-friendliness. First let's examine that fabric content. The latest model of their boxer briefs consists  of 95% bamboo viscose and 5% elastane (spandex). Bamboo is considered an environmentally friendly plant because it can be harvested like grass, meaning the stalks can be cut without killing the root plant.
Second, let's look at the manufacturing process. Boody sources their organic bamboo yarn from a supplier in China. And that supplier creates the yarn using the 2nd generation viscose method (essentially the bamboo is liquified and then dried into regenerated cellulose which is spun into yarn). This method is usually less eco friendly than the 3rd generation lyocell method; however, Boody claims that all the solvents are removed and recycled in a closed loop process that makes it eco-friendly.
Third, let's examine the packaging. We ordered a pair of Boody Eco Wear underwear direct from their site, and we were pleased overall with the lack of plastic in the packaging. Actually it was the most eco-friendly packaging we've had out of all the companies we've reviewed. It has a cute logo on the cardboard box, too. So we'd give the packaging a solid 5 out of 5 stars.
In conclusion, when we factored in their bamboo fabric, their transparency about their manufacturing and suppliers, their eco-friendly packaging, their multiple certifications from environmental agencies, and how all of this compares to the majority of other premium underwear suppliers, we were satisfied with Boody's efforts towards sustainability earth-friendliness.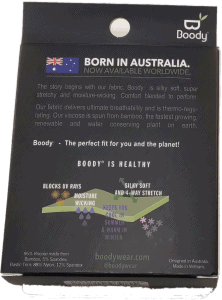 What do Boody boxer briefs feel like?
They're super soft! Bamboo viscose impresses us every time with its softness. We blind tested some of our reviewers, and they grouped Boody's fabric blend on the same level of softness as micro-modal fabrics seen in Tommy John's Second Skin or MeUndies boxers briefs.
They're also snug. True to size as far as the waistband, and the legs hug you close. But it's a comfortable hug. The manufacturer claims that bamboo fabric has a natural lack of spurs which leads to that unique softness.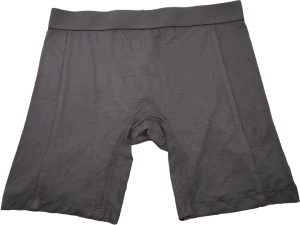 Does it have tags?
It does, but they're removable!  It's a pretty interesting design that a few companies have implemented. Basically the tag is stitched in such a way that you can pull a thread and "unstitch" it, giving you a seamless (and tagless) boxer brief. Maybe it's the fact that our editor is all thumbs, but we struggled a bit with getting the thread going. Ended up using a box cutter (NOT RECOMMENDED!) to snip the thread, then it easily slid out.
How's the package support?  And does it look good?
Though we actually never reviewed the original version of the Boody boxer brief, apparently it had a single layer of fabric for the pouch and several customers complained. So Boody took that into consideration on round two and added a second layer of fabric to the pouch. This means that the extra pouch layer and super stretchy fabric can team up to provide a satisfying level of support. Your boys definitely won't be swaying in the breeze.
As for visual aesthetics, the Boody Long Boxer Brief gets a solid 4.5 out of 5 stars. The elasticity in the fabric allows you to get a nice snug fit, but it doesn't flatten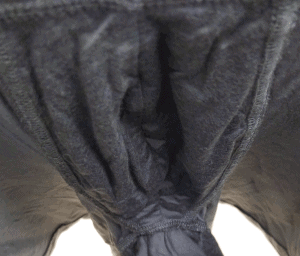 How's the moisture wicking? Is it good for sports?
We found that Boody's fabric blend certainly does a better job of keeping you dry and fresh compared to your standard 100% cotton underwear. For the purpose of day-to-day wear, Boody excelled at keeping us fresh inside in the office and on walks through downtown in the scorching Texas summer heat. And if you're in a pinch, they would serve for mild levels of activity. But for high-intensity sporting or gyming it's hard for natural fabric underwear to compete with the top-tier purpose built sport fabrics (read our review for Pair of Thieves Cool Breeze).
What colors and designs are available?
Your options are somewhat limited here, with the boxers coming in just black or "ash" which is a greyish color. We were surprised to see a series of dark lines on our "Ash" Long Men's Boxer Briefs. The product images on their website show just a pure light grey color, but you might see some darker lines mixed in there (check out our pic). The lack of interesting colors or availability of any prints is one of Boody's biggest shortcomings. While probably difficult to implement due to their commitment to having a natural, eco-friendly product, we would love to see some new design options and colors in their boxer and brief lineup.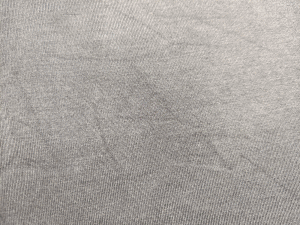 How do I clean my Boody?
The manufacturer left instructions to machine wash with similar colors and tumble dry on low (or line dry if you've got that kind of patience). After well over 15 washes, we're still pleased with the fabric's elasticity and lack of pilling.
Quick word of warning, these briefs are prone to heavy wrinkling if you don't pull them from the dryer quickly. If you are very concerned about the wrinkles, you might try line drying, but the fabric isn't quick drying like you'll see with ExOfficio or other "travel" style underwear so be prepared to wait.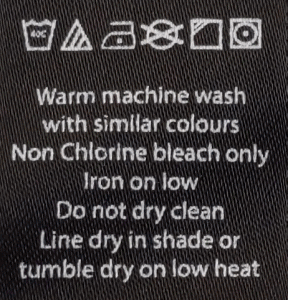 Conclusion
And so our Boody underwear review has come to an end. Overall this boxer brief is a great option for anyone who wants comfortable bamboo underwear that also has a small environmental footprint.
Boody has been very conscious about the eco-impact of their choices when they create products. From the organic bamboo plants growing in China all the way to the eco-friendly packaging arriving at your door, they make an attempt to be a positive impact on the world.
Their eco-friendly fabric is available in several silhouettes. Old school fans will probably prefer the briefs. The boxer brief is available of course, as it's the most common pick for men. You can also opt for the long boxer brief if you have any issues with chaffing or riding up.
This Boody EcoWear underwear is meant to be comfortable premium underwear that you can feel good about wearing. It's made by a company that has earned several environmental certifications. If you enjoy incredibly soft underwear that was made with sustainability and eco-friendliness in mind, then the Men's Long Boxer Brief might be the perfect pick for you.
Top Underwear Picks
We've reviewed nearly every major men's underwear brand and listed the best here!