Duluth Buck Naked Underwear Review – Performance Boxer Briefs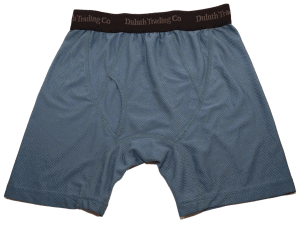 Duluth Buck Naked Underwear Review – Performance Boxer Briefs
Overall Review
A solid choice for a working man who's looking for no-frills underwear that wicks moisture and fights odors.
Moisture & Odor Control
80
POSITIVES
Wicking fabric design
Odor fighting
Durable construction
NEGATIVES
Rough waistband
Fabric softness just average
Brand Overview:
Duluth Trading is a working man's clothing and accessory brand. They have over 30 years experience in making workwear that's designed to support men on the job. You may have seen a funny Duluth underwear commercial or two on TV. If you haven't, go watch some commercials on Youtube. They are hilarious!
You can pick these up at Duluth Trading Company stores near you, or they're available online. Currently they have free shipping to the stores, so you have that option as well if you aren't purchasing enough to qualify for free shipping. We'll update back in November if there are any Duluth Trading black Friday specials worth mentioning.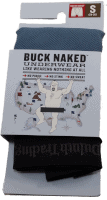 How do they feel?
Initial impression is that the fabric is different than other premium underwear we've reviewed. The diamond pattern is slightly rough on the outside, though it's smoothed some where it makes contact with you skin. These boxer briefs fit best and provide the most support when worn higher up, towards your natural waistline.
There is no bunching in your package area, and no ball pinching issues. The elastic fabric is very stretchy and it moves with you as you go. The waistband is one of our biggest complaints, as it's rather stiff and not that soft. It has been brushed so that it's noticably softer inside that outside, but still not as soft as we might hope for.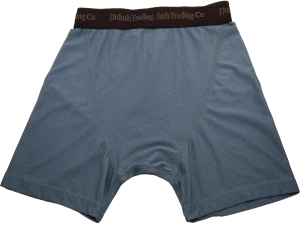 How's the package support?
Expect about average levels of support from the Duluth Buck Naked boxer briefs. And when we say average, we mean in comparison to other premium underwear brands. Compared to your run of the mill cotton undies the Duluth underwear provides above average support.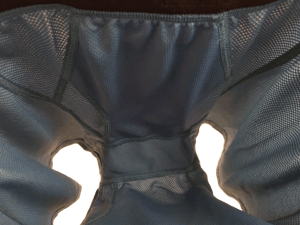 Does it have tags?
The care instructions and sizing are all printed directly onto the fabric, so these no itchy tag to worry about there. However, there is a small tag on the inside of the waistband. It's not labeled as something that you should remove, but we gave it a firm tug and it snapped right off and left only a small line of fabric behind.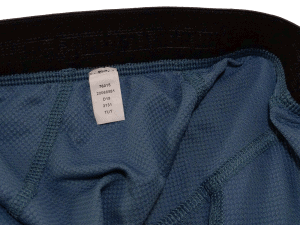 How do you clean them?
The manufacturer recommendation is to machine wash warm with like colors and tumble dry on low. The material is quick drying, so leaving it out to dry overnight should result in a dry pair of boxer briefs ready for the day. However we noticed some moisture still in the waistband. Not a lot of moisture, but it wasn't 100% dry, so we rate these as decent for travel underwear but perhaps not the best.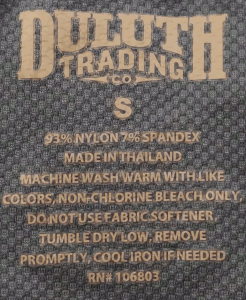 How's the moisture control?
And here's the real question. Can these working man's underwear stand up to a working man's daily routine? For our review Duluth boxer briefs did a decent job at wicking moisture, which means it absorbs liquid moisture quickly from your skin and wicks it out horizontally at a decent speed. But vapor moisture is just as important for comfort, and that's where the breathability of the underwear comes into play.
Duluth designed the Buck Naked boxer briefs with a diamond shaped knit, and overall we feel the fabric has a good amount of airflow to eliminate moisture in the air around your package. These combined attacks on moisture help to keep you dry throughout your day. And as an added benefit, Duluth says it's treated the fabric with something to make it odor-resistant. We haven't been able to find any details in our research about what exactly that treatment entails.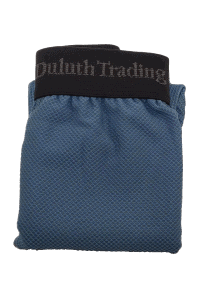 Our Conclusion
The Duluth Trading Company Performance Boxer Brief is a solid choice for a working man who's looking for no-frills underwear that wicks moisture and fights odors.
Duluth started as one of the first construction clothing brands, and they haven't lost their focus on making durable, functional garments. Recall how Buck Naked briefs have a diamond shaped wicking design that transfers liquid and vapor moisture away from your body. And they even gave it an odor-fighting treatment to keep swamp crotch odors at bay.
The Duluth performance underwear fabric is available in the 3 main styles. Traditional folks can go with a regular brief, which eliminates any concerns for the fabric riding up. If you prefer the airy route, they have the boxer with a button fly available to keep anything from showing. And our personal favorite, there's the boxer brief for men who prefer a more modern take on underwear.
This Duluth Trading underwear line is designed to reduce moisture and fight odors, all with a straightforward, no-nonsense design. It's made by a company that has catered to working men's clothing needs for over 25 years. If you want a reliable, wicking, odor-fighting underwear then Duluth's Performance Boxer Brief might be a good fit for you.
Materials: 93% Nylon / 7% Spandex
Activities: Work / Everyday Use
Available Styles: Briefs / Boxer Briefs / Boxers
Top Underwear Picks
We've reviewed nearly every major men's underwear brand and listed the best here!