Pair of Thieves Underwear Review – Cool Breeze Long Boxer Briefs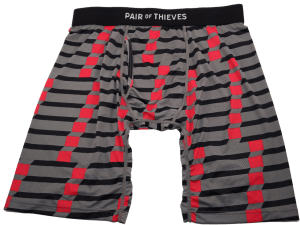 Overall Review
Pair of Thieves Cool Breeze Long Boxer Briefs are an excellent all-activity underwear, keeping you comfortable from the office all the way to the basketball court. The fabric keeps you cool and dry during intense physical activity. But they're not just for sports, you'll enjoy their super softness lounging at home as well.
Moisture & Odor Control
100
POSITIVES
Breathable & moisture wicking
Silky smooth fabric
A feathery soft waistband
NEGATIVES
Loose fit in the legs
Mediocre package support
Brand Overview:
Started by 3 friends (including Cash Warren), this company lucked into a timely deal with Target that helped launch their now successful base layer clothing company. Pair of Thieves socks, underwear, and shirts can likely be found at your local Target as well as online.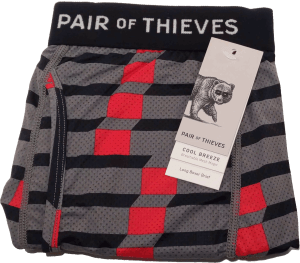 What do Cool Breeze boxer briefs feel like?
They're silky soft. Your fingers will just glide over them. It's a tactile sensation unlike other fabrics we've tested. It's not the luxurious (almost plushy) softness you'll feel with modal or micro-modal fabric, it's more of an airy, silky, cool softness. The Cool Breeze material is cool to the touch. Obviously it's not cool to the touch if you've been running around in them in 100 degree summer heat, but if you're pulling them out of the drawer in the morning you'll probably feel a distinct mild coolness.
Pair of Thieves Cool Breeze vs Mega Soft
What are the best boxer briefs for your lifestyle? Previously the matchup was Super Soft vs Super Fit, but the company made some upgrades to both of those product lines. Cool Breeze is the latest anti-swamp crotch model with all the good features from Super Fit (like 4 way stretch) plus a new silicone coating on the fabric that helps them dry quicker. Mega Soft is very similar to its Super Soft predecessor structurally, just with cosmetic changes.
Cool Breeze is going to be your go-to option for sports and hot summer days because of its moisture-wicking and quick-drying features. Mega Soft is better for when you want to lounge in comfort and indulgent softness (thanks to that 47% modal fabric in its blend).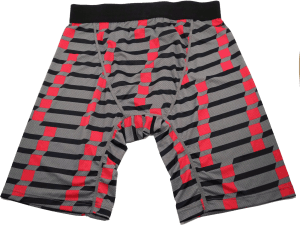 How's the package support?
This is one of the main areas with these boxer briefs where we were left wanting more. More support, more thoughtful design, and a more modern fly. The pouch is very standard with a normal vertical fly and a standard 2 layers of fabric. There isn't any ball pouch or lining like you'll find with Stance or Saxx underwear. And it doesn't give you a super snug skin-to-skin fit like you'll get with compression shorts. You might consider other options if support for the boys is a major concern.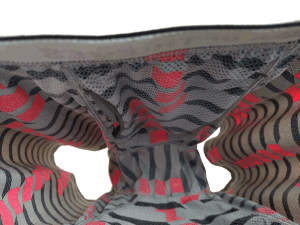 Does it have tags?
The long boxer briefs are actually tagless! The product information is all printed inside on the back tag directly onto the fabric, so there are no annoying itchy tags that need to be removed.
How do you clean them?
Per the manufacturer's care instructions: machine wash warm with like colors and tumble dry on low. These boxers are fairly quick drying, and the fabric generally doesn't show wrinkles.
Are they good for sports and sweaty activities?
These boxer briefs are purpose-built for hot and sweaty activities. Men's jersey briefs have exceptional airflow as you would expect from the massive number of tiny holes. Pair of Thieves stepped up their jersey style mesh with a moisture-wicking wash and a cooling silicone wash for their chilliest fabric yet.
Every guy knows the smelly underwear nemesis that shows up in hot and humid conditions: swamp crotch. Or swamp balls. The smell that a sweaty bum causes. It's horrifying. And Pair of Thieves set out to directly attack those odors when they created the Cool Breeze fabric. So how did they do? Pretty good, actually. You'll notice a vast improvement over regular old cotton or similar fabrics, and a mild improvement over similar moisture-wicking "stay-dry" synthetic fabrics.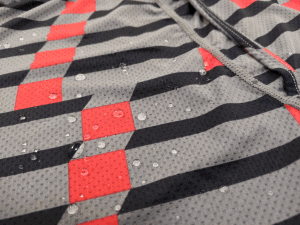 Conclusion
The Cool Breeze Long Boxer Brief is a good option for anyone who sweats heavily, whether from intense activity or just a hot and humid climate.
Pair of Thieves paid close attention to the moisture problem when they designed this fabric. If you're looking for underwear specifically to tackle this issue, then the Cool Breeze boxer brief should be on your shortlist. The advanced cooling mesh fabric and superior breathability are enough to justify the slightly higher than average price tag.
The Cool Breeze fabric is available in many silhouettes. If you wear jeans or other tight clothing you might prefer to opt for their briefs. And the plain old boxer brief is a great choice for most men. If you don't like your undies riding up too high then opt for the long boxer brief.
This Pair of Thieves underwear line is meant to keep you cool and dry in even the most demanding of situations. It's made by a company that has valued ingenuity and comfort for over 5 years. If coolness, dryness, and silky-smoothness are essential to your underwear happiness, then the Cool Breeze Long Boxer Brief is the choice for you.
PRODUCT HIGHLIGHT: Pair of Thieves SuperFit Boxer Briefs
Materials: 85% Polyamide / 15% Spandex
Activities: Sports / Everyday Use
Available Styles: Briefs / Boxer Briefs / Long Boxer Briefs
Top Underwear Picks
We've reviewed nearly every major men's underwear brand and listed the best here!