Stance Underwear Review – Wholester Men's Pouch Underwear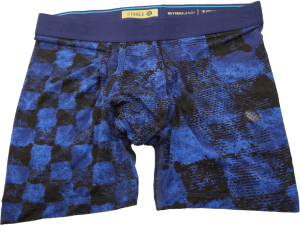 Overall Review
Stance's Wholester Boxer Brief with Butter Blend is an excellent choice if you like extra support and ultra soft fabric. Their innovative pouch keeps your boys comfortable in place without restricting their freedom (check out our photos below). And their unique blend of fabric is some of the softest we've ever felt. These are a great choice for daily wear.
Design & Print Options
100
Moisture & Odor Control
83
POSITIVES
Supportive ball pouch
Luxury soft modal blend
Many design options
NEGATIVES
Small vertical fly
Expensive
Brand Overview:
Stance socks first hit the market in 2009 and then they moved into underwear as well in 2015. They're an aggressive player on the designer underwear scene, actively growing a list of celebrities, sports teams, and musicians that endorse their products. They style themselves as innovators and creative thinkers, and we'd tend to agree after experiencing their Wholester boxer and its unique design.
Stance Underwear
Stance offers boxer briefs with a traditional design or the maximum support Wholester boxer brief. Stance does not currently offer boxer shorts or briefs.
What are they made of?
The "Butter Blend" model consists 65% modal and 26% lyocell and 9% elastane. This is a unique blend that we've not seen elsewhere. The high percentage of modal is what makes these boxer briefs so soft. The lyocell adds strength and moisture absorption. And the elastane (spandex) keeps everything elastic and close to your body. We really like the feel of this fabric blend, and we expect that it will hold its shape better than micromodal/elastane blends seen in other brands (such as the Second Skin line by Tommy John).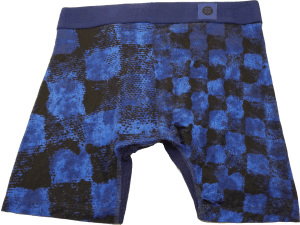 Are Wholester boxer briefs comfortable?
Yes, very much so! These are some of the best underwear for men because they excel in two key areas: softness, and pouch support. As mentioned above, the fabric is super soft thanks to its modal/lyocell blend. It's a level of softness that regular cotton underwear just can't hope to match. And the lyocel adds in some extra durability. Most men will also love the added pouch lining, and the support that it provides throughout the day. The waistband is moderately soft and very secure. You can count on it to stay in place and not roll when you get active.
How is the package support?
The ball pocket lining is a soft ribbed fabric (perhaps modal?). It's designed to gently hold everything in place, and it succeeds in doing just that. Gentle being the key word. So many testicular support underwear designs actually restrict your movement. The Wholester boxer brief is definitely not restrictive. It will hold your boys gently, but if you stretch too far in either direction then the pouch will let you out without a fight.
It's hard to get an appreciation for the pouch by itself so we added a couple of ping pong balls to the pouch to help you visualize how the Wholester is designed.

How's the moisture wicking?
The Wholester boxer briefs are very versatile. They're all-stars in the office environment, and good with casual activity. The lyocell fabric in their blend helps wick moisture -> which reduces bacteria -> which reduces odors. So that's a win-win combo. Now bear in mind that semi-synthetic fabric blends, such as Stance's Butterblend, can't really compete with the full synthetic performance fabrics (Stance actually has a performance line made out of nylon). But if you're looking for a combination of luxurious softness and casual activity moisture wicking, the Wholester gets a solid two thumbs up.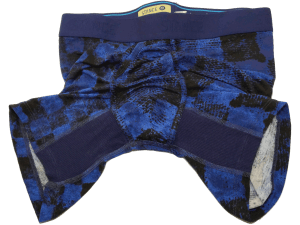 Does it have a fly?
These underwear have the common side-to-side access you probably grew up with. But this fly actually has a narrower opening and tighter fabric than we were expecting, which makes utilizing the fly more challenging that expected. It just took some getting used to. The tightness definitely will prevent any surprise guests showing up to the party, and perhaps that's what Stance intended when they came up with this design.
Does it have tags?
There is a long, annoying tag on the waistline. It doesn't have any instructions saying that you should remove it; however, if you do decide to remove it, it rips off SUPER cleanly, barely even a trace that it was there. It's up to you whether you leave that little guy on there or not.

How do I clean my Wholester Boxer Briefs?
As with most modal fabrics, the manufacturer recommends machine washing cold and tumble drying on low. The boxers retain their shape well and aren't prone to excessive wrinkling like you might see with bamboo or pure cotton underwear. And the modal/lyocell fabric blend should resist pilling and damage for longer than its softer, more fragile micromodal cousins.
Stance Socks
For the man or woman who appreciates the value of a premium sock, Stance has a wide range of options that should fit your style.
Be sure to keep an eye on the fabric composition as they have all manner of blends available. For more casual luxury wear look for a blend containing Lyocell. Their standard combed cotton blends are comfortably soft as well. For performance and max breathability you're probably going to want to find a synthetic nylon or poly blend.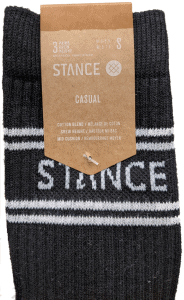 Stance Subscription
What is it? – It's a monthly or quarterly subscription where you can choose either a couple pairs of socks or a pair of undies delivered automatically to your door.
Who picks the design style? – You can curate your own designs if you prefer, or they will pick the design for you based on a short survey you submit when signing up for the subscription. If you plan on selecting your own designs be sure to keep an eye on your email so you don't miss the window for customization on that shipment.
How much is it? Where do you sign up? – At the date of this writing the sub starts at $19/mo + tax (and factor in roughly $6 for shipping as well). You can sign up for it directly on their website at https://www.stance.com/subscription
Stance vs MeUndies Subscription: Which is better for you?
Both companies offer exclusive deal pricing for their subscription members that will save you a few dollars per pair.
MeUndies tends to have more playful underwear prints, and they also have the option for you to get matching underwear with your significant other. Stance does not offer women's underwear (though they do have women's socks!), so matching couples undies is not possible.
Stance socks are generally more well known and they have a greater variety of performance fabrics. Both have great sock print options so foot fashionistas can't really go wrong with either choice. Note for sports fans: Stance does have MLB and NBA team prints.
FAQ
Does Stance offer any discounts or coupons?
They're not big on discounts but they do have a Last Chance sale section on their site. Also, older model Stance clothing can often be found at discounted prices at retailers such as Nordstrom Rack.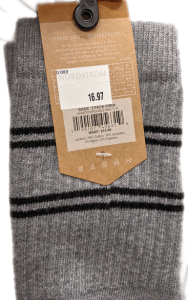 Final Thoughts
The Wholester Boxer Brief with Butterblend is a great option for someone interested in luxuriously soft men's underwear with pouch support.
Stance has a keen eye for comfortable design, and this makes them one of the best pouch underwear on the market. This boxer brief line is meant to keep you comfortable and well supported throughout your daily activities. If package support, soft fabric, and trendy designs are key to your satisfaction, then the Stance Wholester Boxer Brief could be your perfect pair.