32 Degrees Underwear Review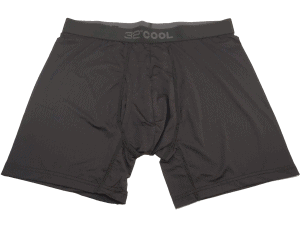 Overall Review
32 Degrees specializes in creating everyday wardrobe basics. From activewear to basic t-shirts and underwear, this clothing line is versatile for both the summer and winter seasons. Their minimalist designs are affordably priced and often on sale, making this collection a must-have for those on a budget
Moisture & Odor Control
85
POSITIVE
Affordable
Good moisture control
NEGATIVE
Limited print options
Brand Overview:
32 degrees primarily makes base layer clothing for people with an active lifestyle. Think of them as a reasonably priced discount alternative to popular sportswear lines such as Under Armour or travel wear such as ExOfficio.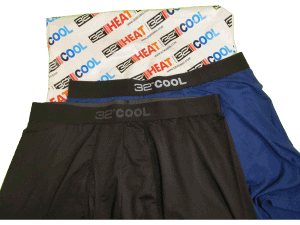 For cold weather they have thermal underwear, leggings, jackets, pants, long underwear and all manner of body heat retention clothing (though stock and availability on all items tend to vary throughout the year). Note that they do not typically carry anything other than synthetic fabrics, meaning no options featuring merino wool or even smartwool.
For warmer weather they have a line of moisture wicking clothing typically featuring a lightweight synthetic fabric. Shirts, underwear, gym clothes, sleepwear, and loungewear are generally available year round. Their polyester "cool" fabric and nylon "air mesh" fabric make excellent workout clothing or summer casual wear due to their moisture wicking and good breathability.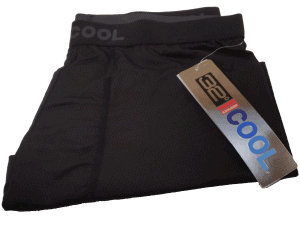 PRODUCT HIGHLIGHT: Active Mesh Boxer Brief
This is currently their only fabric available for men's underwear. The Active Mesh boxer brief is constructed out of a somewhat cool to the touch nylon. This fabric is newer and appears to have fully replaced their original non-mesh boxer brief fabric.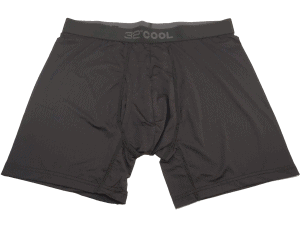 Fabric: 88% Nylon / 12% Spandex (aka elastane)
The nylon yarn is formed into a jersey like mesh; however it's not entirely see-through as even the holes have a very thin layer of fabric woven over them. It's breathable, and the nylon wicks the sweat off your skin and disperses it for evaporation, helping keep you dry and fresh. The high spandex content keeps these stretch and close to your body for a nice fit.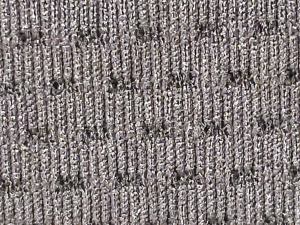 Comfort: The fabric is reasonably soft and somewhat cool to the touch. The best description we can think of is like a slight downgrade in softness and coolness from Pair of Thieves SuperFit (formerly Cool Breeze) boxer brief material.
Elastic Waistband: Elastic and stretchy, they haven't rolled on us during testing and it stays in place. It has the thickness of a credit card, and is slick-soft. Slick as in your fingers will slide easily, and soft but not feathery soft. It's a lot like you might expect on the waistband of a pair of whitey tighties.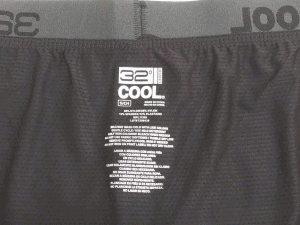 Durability: The Active Mesh fabric has retained its shape after multiple washes using a mesh laundry bag. Our only complaint is that it does have minor wrinkling issues.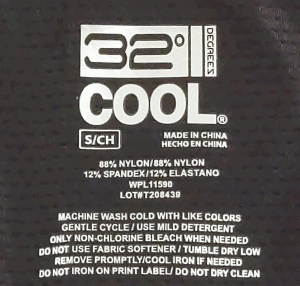 Uses: We'd recommend them for budget-conscious individuals that have an active lifestyle. They served adequately for activities such as hiking or camping. Though keep in mind these aren't compression underwear so they won't provide that intense level of support. If budget isn't as much of a concern then you might look towards the AIRKNITx line by Mack Weldon for sports or the Wholester w/ButterBlend line by Stance for luxe comfort casual wear.
Comparison
32 Degrees Boxer Briefs vs Traditional Cotton Underwear
Traditional cotton undies are going to retain a lot more moisture and stay damp for longer than the Active Mesh underwear. The price point is usually just a couple dollars more per pair if you manage to buy on one of their frequent sales. For exercise or if you live in a humid environment that few dollar extra might well be worth the increased comfort and reduced odor that that good underwear can provide.
Where to buy?
32degrees.com has frequent sales and deals on shipping, we'd strongly recommend checking out their site directly, or if you're a member, you might be able to find a Costco deal featuring 32 degree underwear or shirts in a multi-pack.
Top Underwear Picks
We've reviewed nearly every major men's underwear brand and listed the best here!