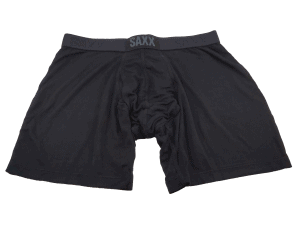 Overall Review
Saxx boxer briefs are an amazing example of what ball pouch underwear should be. They're soft and slim fitting, have a strong elastic waistband that's not too rough, and most importantly they have their trademark BallPark Pouch that supports you and keeps your balls in place throughout the day. These are a great choice for underwear that focuses on support!
Moisture & Odor Control
92
POSITIVES
Supportive Ball Hammock Pouch
Reversed seams (flat inside)
Decent design options
NEGATIVES
Relatively expensive
Lumpy package aesthetics
Saxx Company Overview: Judge a boxer by its sack.
The Saxx underwear brand was started by a Canadian student when he was out fishing in the sweaty heat, wondering how he could build a pair of underwear that keeps your balls from sticking to your legs. So he got a loan from a bank and hired a designer to craft the perfect ball hammock briefs. And the first pair of Saxx underwear was born. Now they offer an impressive 12 different lines of men's underwear.
Beyond their unique technical design, the company has a solid foundation of men's clothing products for nearly every casual / sports occasion.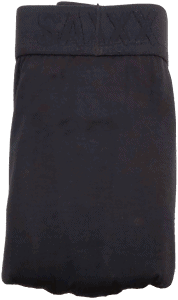 Saxx Briefs / Boxers / Trunks Review
Saxx offers a wide variety of undies for nearly every situation a man could find himself in. They have 12 different lines of boxer briefs, 5 for everyday use, 2 for "adventure" and 5 specially designed for sports. The only consistent features across all 12 designs are their trademarked 3D Fit stretchy fabric and 3D hammock shaped pouch. Boxer briefs are the main silhouette and have almost all fabric and technical design options available. There are 3 categories they've defined that you can choose from: Everyday / Sports / Adventure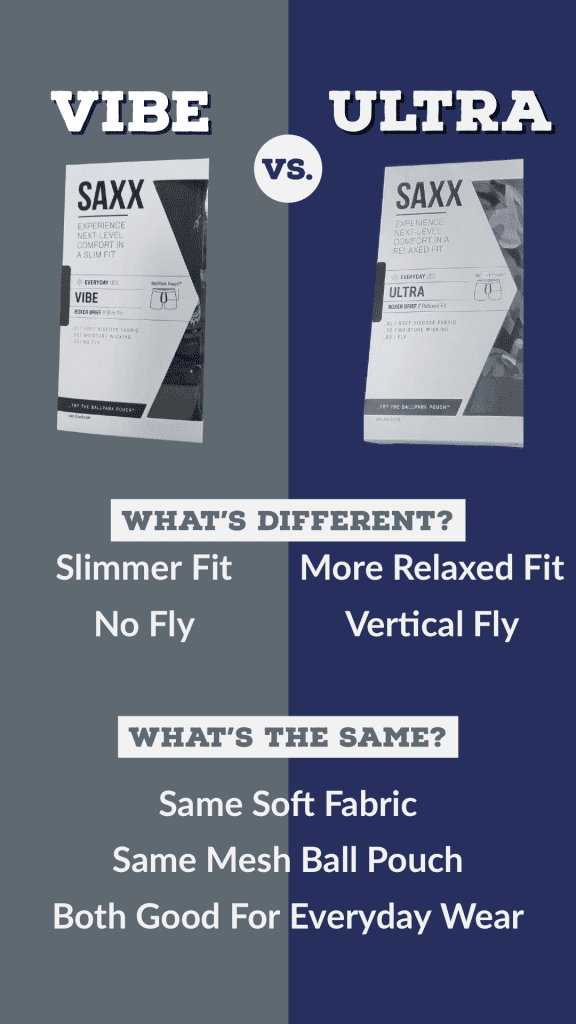 -EVERYDAY
SAXX ULTRA vs SAXX VIBE: The Vibe and Ultra are both made from 95% viscose and 5% elastane (aka Spandex), meaning that they're soft and somewhat delicate. Their primary difference is the Vibe is slim fit w/out a fly while the Ultra brief is more relaxed and has a vertical fly. (note: sometimes Saxx offers a Vibe w/fly, ymmv on its availability) Both are great for everyday wear.
SAXX PLATINUM: Their softest, most delicate material which is a blend of 95% modal and 5% elastane. This is a material better suited for lounging in luxe comfort instead of any sports or strong endurance activities.
SAXX DAYTRIPPER: More or less a synthetic version of the ULTRA, it's got a fly and relaxed fit. The main difference is instead of viscose Daytripper boxer briefs are made out of 97% polyester and 3% elastane. You might find this blend more resilient and less prone to pilling.
SAXX UNDERCOVER: A slim, snug fit like the Vibe, but with a fly, and a 57% cotton / 38% modal / 5% elastane blend. By adding cotton to the blend you could anticipate a stronger, more resilient fabric experience (though less luxurious) than the PLATINUM line. The fabric composition is somewhat similar to Mack Weldon's 18 hour-boxer brief (47.5% cotton / 47.5% modal / 5% spandex) but Saxx's choice to go with more cotton and less modal might give it more resilience at the cost of slightly less softness. We have a full Mack Weldon review if you're new to that brand.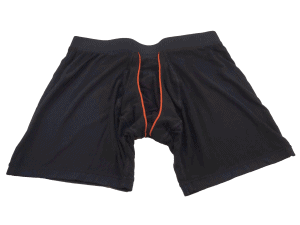 SPORTS
SAXX KINETIC HD: A high intensity, training boxer brief that's designed to support heavy movement. The fabric blend has 85% nylon which helps with moisture control, and 15% elastane which gives the Kinetic boxer brief a semi compression fit for reduced chafing and greater support.
SAXX SPORT MESH: A slim-fit, versatile men's underwear for those with an active lifestyle, these are designed to function well whether at the office or on a basketball court. The blend contains 89% polyester for moisture control and 11% elastane for added support and structure. They also have a vertical fly.
SAXX VOLT: Nearly identical to the Sport Mesh brand, these are slim-fit trunks with an 88% polyester and 12% elastane blend. One key difference: no fly.
HYPERDRIVE: This is Saxx's most specialized sports underwear, only available in a long boxer brief silhouette in black. The long legs help reduce chafing. It's blend consists of 80% nylon for moisture control and a whopping 20% elastane which makes these a type of compression underwear with a high level of support for very intense activities.
HOT SHOT: Saxx's newer moisture controlling line, featuring a blend of 85% recycled polyester and 15% elastane that they claim is specially woven in a manner to adsorb sweat from the surface of your skin to the outer layer of the fabric and then disperse it along the fabric for evaporation.
ADVENTURE
QUEST: Saxx's take on travel underwear, these are designed with moisture wicking and lightness in mind. The fabric blend is 77% nylon / 14% elastane / 9% polyester. Note the increased amount of elastane vs other models which should help these travel briefs retain their shape better.
VIEWFINDER: Winter underwear by Saxx, these are designed with warmth in mind. The blend of 84% polyester / 11% Merino wool / 5% elastane will help keep your boys warm through any cold-weather adventures. Though better options exist if you're planning exposure to intense, arctic-level weather.
Product Highlight: Saxx Vibe Review
The Saxx Vibe boxer brief is just plain amazing. Its thoughtful flat seam construction has a lovely smooth contact with your skin, making these almost unnoticeable while wearing.
FABRIC: Blend of 95% viscose and 5% elastane. The viscose fabric is soft and slim-fitting, making for an attractive leg showcase through the butt and thigh. Viscose is a 2nd generation manufacturing method known for softness and reasonable moisture-wicking properties. If you're looking for luxurious softness you'd want something from the newer 3rd generation method commonly known as the Lenzing trademark Modal or MicroModal. You can find that fabric in designer underwear brands such as the Second Skin line by Tommy John or Calvin Klein, or in the Saxx Platinum and Saxx Undercover lines.
BALL POUCH: Saxx builds their hammock with airy mesh panels instead of the thicker ribbed design on other ball-supporting briefs like the Stance Wholester (we have a Stance Wholester review as well). The concept behind the mesh most likely being that it will increase airflow to aid in controlling moisture and odors around your junk.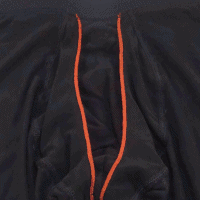 WAISTBAND: The anti roll waistband is reasonably soft and thin beneath your pants waistline (though not on the same level as the feather-soft Pair of Thieves waistband) and it will keep your Saxx boxers in place as you move about your day. The garment information is printed directly onto the fabric and there's no annoying stitched on tag.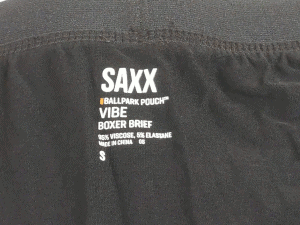 COMFORT: They're great for an everyday pair of undies. We didn't have any issues with the fabric riding up, the ball hammock is effective on hot & humid at days keeping your balls dry and off your legs, and they're much softer than traditional cotton underwear.
Key takeaways from this Saxx underwear review:
Their distinguishing angle on this core clothing staple is their patented Ballpark Pouch which provides support for your balls.
Consider what activities you'll be taking part in to determine if you should choose from the Everyday, Sport, or Adventure line. (For everyday wear it's hard to go wrong with the Vibe or Ultra boxer brief)
If you're intrigued by the ball-pouch design then you might want to consider the Stance Wholester as well.
Top Underwear Picks
We've reviewed nearly every major men's underwear brand and listed the best here!