Mack Weldon Underwear Review – AIRKNITx HD 8″ Boxer Briefs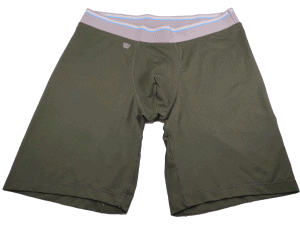 Overall Review
Mack Weldon's AIRKNITx HD 8″ Boxer Brief is an excellent active-wear and casual-wear lightweight garment. The stretchy, close-fitting material makes it one of our favorite boxer briefs that don't ride up. And the moisture-wicking, breathable design helps you stay fresh during hot weather and intense activities. But they're so comfy that you might just find yourself wearing them simply to lounge around the house.
Moisture & Odor Control
100
POSITIVES
Lightweight & breathable
Moisture wicking
Supportive contoured pouch
Super soft waistband
NEGATIVES
No fly
Noticeable seam from "coolzone" on backside
Brand Overview:
Mack Weldon is a men's lifestyle basics brand, meaning they produce underwear, socks, tops, and bottoms in a variety of 3 unique fabrics. Their AIRKNITx fabric is a moisture-wicking microfiber focused on keeping you dry and fresh. Their Silver fabric is made of premium cotton infused with anti-microbial silver, which is supposed to keep you fresher for longer. And lastly their 18-hour jersey fabric is a soft modal blend made for casual wear.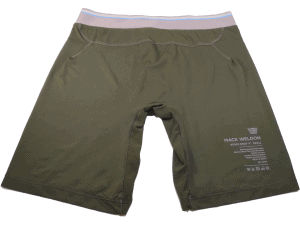 Are they comfortable?
It feels great wearing these Mack Weldon boxer briefs. The heavy spandex (elastane) content allows them to cling closely to your body, but the fabric is stretchy so you never feel restricted. The snugness leaves you feeling well supported.
This AIRKNITx HD version also has special breathing zones that appear to be thinner and slightly more jersey-like than the rest of the fabric. Some reviewers complained about the seam (seen below the waistband in the picture). But keep in mind that the seam is knitted smoothly and not guaranteed to bother you.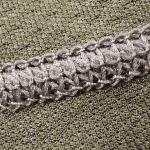 Another important note, the fabric is not ultra soft like you might expect with a modal or micromodal blend. However, because it is made from synthetic polyamide, it is great at wicking moisture. And the weave is sewn with holes similar to jersey boxer briefs, which allows for an excellent amount of airflow. Overall these are an incredibly comfortable pair of Mack Weldon underwear.
Are they good for sports and sweaty activities?
This is exactly what Mack Weldon had in mind when they designed this breathable microfiber. The combination of breathable jersey-like mesh with moisture-wicking polyamide fabric make these great for high levels of activity. The supportive elastic keeps everything in place as you move, but it doesn't go so far as restricting your movement.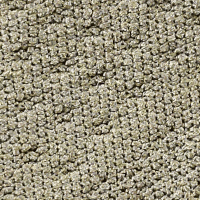 How's the package support?
The contoured design of the pouch and the stretchy fabric make these boxer briefs very supportive. It's the kind of support you get with Tommy John Second Skin boxer briefs, if you've ever tried that brand and are considering a switch. But the support may not match up to your standards if you're used to wearing dual pouch underwear or the kind with a lined ball pocket.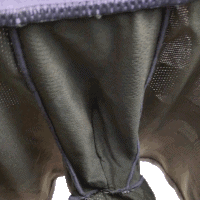 Does it have tags?
There aren't any tags on these Mack Weldon briefs. They actually printed all the product information on the backside of the right leg, which is oddly prominent placement. But it's not really that noticeable, at least you won't notice it.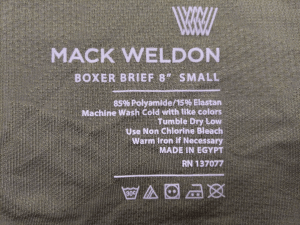 How do you clean them?
The care instructions say to machine wash cold with like colors and tumble dry on low. Keep in mind that these are quick drying boxer briefs, so there's no good reason to ignore the manufacturer's instructions and scorch them with high dryer settings. We did notice a mild amount of wrinkling in the fabric, so you might want to be sure to pull them quickly once the dry cycle ends if that sort of thing bothers you.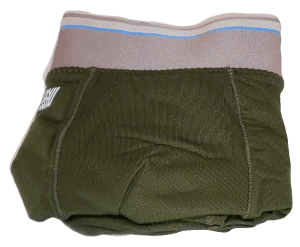 Our Conclusion
So that pretty much wraps up this Mack Weldon review. Final thoughts: the AIRKNITx HD 8″ Boxer Brief is a great choice for anyone looking for underwear that keeps you dry, fresh, and well supported.
Mack Weldon put a lot of attention into their designs. First the AIRKNITx fabric design, which has been woven for incredible breathability. Second the actual garment design, which applies supple pressure at key points to support your package. Third the simplistic colors and design choices give you an air of sophistication and class.
AIRKNITx fabric is available for many types of basics and underwear styles. You've got choices of briefs, boxer briefs, long boxer briefs, or trunks. You've also got options for AIRKNITx socks or performance tights if you'd like to replace even more of your wardrobe.
This Mack Weldon underwear line is designed to keep you dry and fresh throughout your day, regardless of what level of activity you get up to. It's made by a company focused solely on providing men with quality basics. If you want a moisture-wicking, package supporting, lightweight boxer brief that doesn't ride up then the Mack Weldon AIRKNITx HD 8″ Boxer Brief is likely a good choice for you.
Materials: 85% Polyamide / 15% Spandex
Activities: Active / Everyday Use
Available Styles: Briefs / Boxer Briefs / Performance Tights
Top Underwear Picks
We've reviewed nearly every major men's underwear brand and listed the best here!